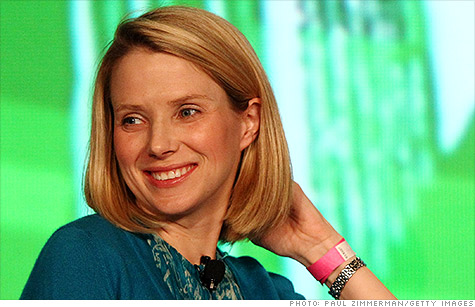 By Casey Kurlander
The biggest news story out of Silicon Valley this week is that Marissa Mayer has been hired as the new CEO at Yahoo.  The second-biggest news story seems to be the fact that she is six months pregnant.  Aside from that, who is this Marissa Mayer?  What has she accomplished at Google and more importantly, what we can expect from her at Yahoo, a company who has been on quite the downward spiral.  Rumor has it she is going to earn up to $100 million in compensation, stock, bonus and retention awards over the next five years, so what changes can we expect from the company in the upcoming future?
Mayer received her B.S. in Symbolic Systems and her M.S. in Computer Science from Stanford University, specializing in artificial intelligence for both degrees.  She joined the Google team in 1999 as its 20th employee and its first female engineer.  During her time there she held five different roles, beginning as a software engineer and finishing as the Vice President of local, maps and location services.  She is credited with maintaining the company's home page for a decade and more product creations and enhancements than Yahoo has seen in a long time, some of the most popular including Gmail, Google News and image, book and product search.
She made her Yahoo debut Tuesday, replacing Ross Levinsohn, who ran the company on an interim basis since Scott Thompson's resignation in May.  She is the company's fourth chief executive in less than a year.
There are huge challenges that come with accepting the position at Yahoo.  Mayer is joining the company as its fortunes have pretty much come to a halt.  Its financial performance and stock price have been steadily declining since Yahoo rejected a $47.5-billion takeover offer from Microsoft in 2008. The company's lower profit makes it clear that Yahoo is losing the battle for people's time and attention and marketers' advertising dollars to rivals Facebook and Google.  Both companies have been thriving as advertisers spent more money on Internet advertising.  It currently takes Google a little more than a month to make as much money as Yahoo does in a year.
To succeed, Mayer will ultimately have to take one of the Internet's most recognizable brands and make it more profitable.  She must apply her extensive knowledge of working on the user experience, doing for Yahoo what she did for Google.  By recapturing the audience's attention and driving more traffic to Yahoo's website, this will in turn help Yahoo sell more online advertising space and revive revenue growth.
She could work with Levinsohn to keep the company on a path towards media and content at its core.  It would be beneficial to keep Levinsohn and build on what he had envisioned- revamping the site and making it the hottest spot on the Internet by using a combination of exclusive content and material produced by a wide range of other media outlets.  He was particularly focused on improving the quality of Yahoo's video offerings, estimating that if the company's website was serving up professionally produced news and entertainment clips, it will attract people and they will stick around.
Mayer has yet to announce the fate of Levinsohn, declining to discuss her plans for him in a Monday interview.
Whether Levinsohn stays or leaves, Mayer will have to develop a road map for Yahoo and decide where the company fits in the Internet and mobile market that is mainly being controlled by Google, Apple, Facebook and Amazon.  Yahoo currently has a monthly audience of 700 million users that it plans to build on as it develops more effective ways to connect with people on smartphones and mobile devices.
As one of Google's former top executives, it is safe to say that she knows the company's strengths, weaknesses and vulnerabilities very well.  Her experience at Google has probably also given her some insight on the areas where Facebook, Apple and Amazon.com are vulnerable as well.  Mayer has already stated that she is confident that she can make Yahoo's services "even more innovative and inspiring in the future."
Yahoo needs a sharp leader who can build excitement and ultimately traffic and revenue.  It looks like after a string of short-lived CEOs they may have finally found a good match with Mayer, who has been described as "whip smart" and "a tireless champion of users." The next few months will be interesting to see what she can do for Yahoo as the world looks on.