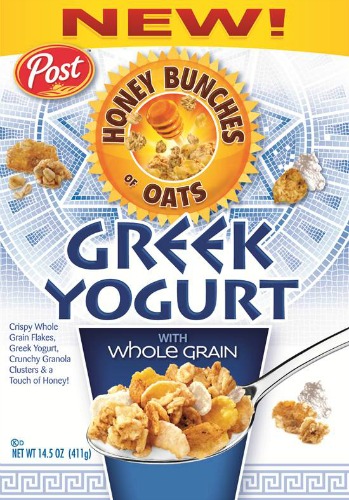 By Savannah McClelland
Post, the third-largest cereal brand in the United States, managed to move from a concept to a product on the shelves in six months, demonstrating dedication to its position as a nimble, entrepreneurial competitor to Kellogg and General Mills.
Last summer, a Post Foods cereal executive suggested the idea of a breakfast cereal with Greek yogurt mixed into it. The idea appealed to execs from Target and Walmart; they wanted the product on shelves by January. Post had a small problem, however: they had not actually developed a method for producing mass quantities of dried Greek yogurt, which would be needed to mix into the brand's granola clusters. The retailers also wanted part of the cereal to be coated in yogurt to serve as a visual reminder to consumers.
Post wanted to use authentic Greek yogurt, but vendors pushed back; Mark Izzo, Post's VP of Research, recalled being told variously, "It cannot be done… you cannot dry Greek yogurt… it's too thick." He was also informed that Greek yogurt was so popular that all of the vendors only selling that product were too busy with the refrigerated, ready-to-eat yogurt to produce the dry version Post wanted. Therefore, Post looked into possibilities in Europe. A product called baker's cheese is made using a similar method to that which U.S. Greek yogurt makers use, and Post considered that since baker's cheese (or "fresh cheese") comes in a dry for, the same technique could be used on Greek yogurt.
Eventually Post found a dairy in the U.S. willing to try the method, and while Post R&D worked on the product, marketers created packaging before the cereal was finalized. The company had to wait until much later than normal to begin consumer-product testing, meaning it might have to change the cereal after it was already in stores. Retailers received their first plant-made samples in November, and in December, the first boxes began to roll off the assembly line. The cereal company cranked the factories around the clock to meet demand. The first TV ads aired in late January, featuring consumers giving the cereal rave reviews.
The early returns look good. In just four weeks, Post says that the cereal reached distribution of 48% of all grocery and mass retail stores nationwide—the fastest rollout in Post history, according to Mr. Izzo.